Helping our Customers celebrate - it's what we do!
⭐️⭐️⭐️⭐️⭐️ Finally a decent cocktail set!

We have had the hardest time finding a cocktail set that wasn't cheap garbage. We almost gave up and then decided to give this one a try. Good quality, good weight, no leaks. I bartended for 10 years and owned a restaurant for 7 so I know what I'm talking about. Pleased with my purchase and sipping a delicious cocktail while I write this! ✨👌

Chloe Cullen, March 27, 2022
⭐️⭐️⭐️⭐️⭐️ This Rocks!

Loved this set! Quality! Looks expensive. Fun to use. I bought a different brand set before I bought this one. I sent the other cheap, poor quality set back!

This one is perfect! For the professional or the novice.

I make dirty martinis and it's perfect,

Mark, March 13, 2021
⭐️⭐️⭐️⭐️⭐️ Money well spent

I only wish I had bought one of these sooner. The shaker works incredibly well, and all the other accessories are great also. This kit really raised my cocktail game to the next level. It's also good quality and looks great in my kitchen.

Josh Barclay, July 4, 2020
⭐️⭐️⭐️⭐️⭐️ Amazing quality and beautiful setup!

The quality of this bar set is AMAZING. These are better quality utensils than what my bartender job has us using! They are heavy duty - not flimsy at all. Shiny and sturdy. The bamboo stand is beautiful with a place for each object to sit. SO happy with this purchase!

Ashley Beth, November 15, 2019
⭐️⭐️⭐️⭐️⭐️ Be Ready for Your Next Party

You will be the envy of the neighborhood with this bartender set. Now you will be able to properly make every fancy drink that your guests desire. Just watch the movie Cocktail a few times and you will be as good as Tom Cruise!

The Sage Owl, November 19, 2019
⭐️⭐️⭐️⭐️⭐️ Great addition to my bar cart!

It was beautifully packaged and well protected. Love the compact nature of the set and how everything has its place. Great quality.

VeronicaV, August 20, 2020
⭐️⭐️⭐️⭐️⭐️ Great gift!

I got this for my husband for Christmas, since he is interested in learning how to do cocktails. It has everything he needs in one place. Very good quality and the stand is great to have.

Melissa L. Luiz, December 30, 2020
⭐️⭐️⭐️⭐️⭐️ Amazing and durable professional grade bar set

Love the set. Great for all occasions. Comes with everything you need for any type of cocktail. Even comes with a recipe book. The bamboo stand is great too. Shakers and other supplies are made of stainless steel. Jigger is marked on both sides (which is good when you're not at home and using it for work). I also love that the company backs their product.

Emily Chamberlain, November 26, 2019
⭐️⭐️⭐️⭐️⭐️ Great Gift

I bought this for my boyfriend as a gift and he loves it! I looked at a lot of different sets and this one seemed the best for the price. He was especially excited about the jigger and the three different strainers, but also loved all the pour spouts and the quality of the spoon. Everything was well packaged, and nothing was missing or broken. He loved the E-book that came with it full of recipes

Caitlin Schlemmer, July 12, 2020
get the party started with wintercastle!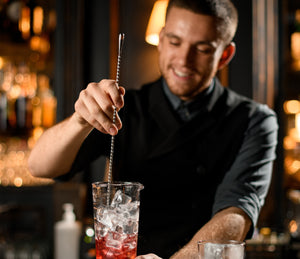 Bartender Mixing Set
WinterCastle has a wide selection of bartender mixing sets and other cocktail mixing products. We specialize in all things related to mixology, including bartender kits and sets, premium cocktail shakers, and more. Making quality drinks starts with a quality set of mixing tools. Whether your favorite drink is a Moscow mule, an old-fashioned, or even a margarita, we have you covered. If you have any questions regarding our selection of bartender mixing sets, please get in contact with us today at support@thewintercastle.com, and we will respond as soon as we can! We look forward to helping you mix the perfect cocktail!