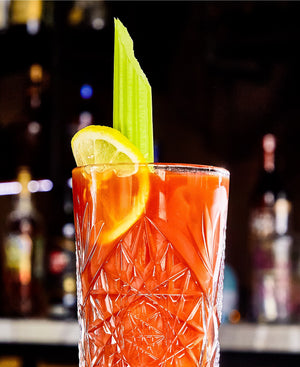 About:
Known as a "hair of the dog" breakfast time hangover cure, there are many recipe variations of this classic drink.
Ingredients:
• 2 oz Vodka
• 4 oz Tomato juice
• 3 dashes Tabasco sauce
• 3 dashes Worcestershire sauce
• 2 tsp Horseradish
• 1 pinch Celery salt
• 1 pinch Black pepper
• 1 Lemon wedge
• Garnish: Lemon wheel, celery stalk
Directions:
1) Rub a lemon wedge along the lip of a highball glass.
2) Pour some celery salt onto a small plate.
3) Roll the outer edge of the glass in celery salt until fully coated.
4) Fill the highball glass with ice.
5) Squeeze the lemon wedge into a shaker tin and drop it in.
6) Add the rest of the ingredients and ice to the shaker tin and shake gently.
7) Strain into the highball glass.
8) Garnish with a lemon wheel and a celery stalk.