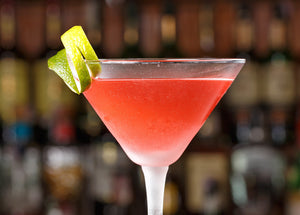 About:
The classic cosmo was at the height of its popularity in the 1990's because of frequent references on the HBO show "Sex and the City".
Ingredients:
• 1 1⁄2 oz Vodka
• 1 oz Cointreau
• 1 oz Cranberry juice
• 1⁄2 oz Fresh lime juice
• Garnish: Lime slice
Directions:
1) Add all ingredients into a shaker with ice and shake.
2) Strain into a chilled cocktail glass.
3) Garnish with lime.