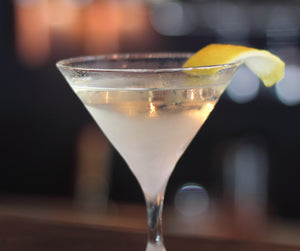 About:
A proper dry martini should be stirred rather than shaken.  An optional dash of orange bitters can be added to this recipe.
Ingredients:
• 2 1⁄2 oz Gin
• 1⁄2 oz Dry vermouth
• Garnish: Lemon twist or olives
Directions:
1) Fill a shaker tin or mixing glass with ice, then add vermouth and gin.
2) Stir for 30 seconds.
3) Strain the cocktail into a chilled martini glass.
4) Garnish with a lemon twist or with olives.