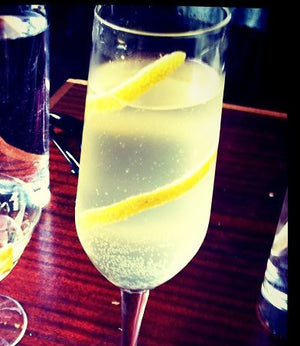 About:
Early 20th century cocktail named after the 75mm gun used by the French in World War I.  A popular brunch-time selection.
Ingredients:
• 1.5 oz Gin
• 3/4 oz Fresh lemon juice
• 1/4 oz Simple syrup
• 2 oz Champagne
• Garnish: Lemon twist
Directions:
1) Add gin, lemon juice, and simple syrup to a shaker filled with ice and shake well.
2) Add the Champagne to the shaker, strain into a Champagne glass, and garnish with a lemon twist.