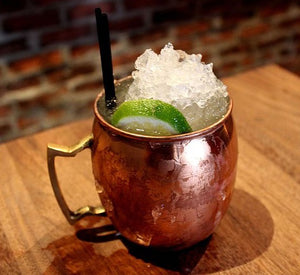 About:
WWII era cocktail that was designed to increase the popularity of vodka in the US.  Traditionally served in a copper mug that keeps the drink ice cold.
Ingredients:
• 2 oz Vodka
• 3 oz Ginger beer
• 1/2 oz Lime juice
• Garnish: Lime wheel
Directions:
1) Fill a Moscow Mule mug with ice.
2) Add vodka, lime juice, and ginger beer.
3) Garnish with a lime wheel.