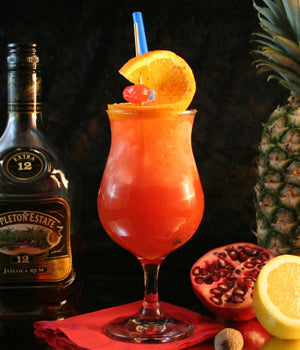 About:
A classic and refreshing rum punch cocktail of disputed origin, it has been around since the late 1800s.
Ingredients:
• 1-1/2 oz Dark rum
• 1/4 oz Grenadine
• 2 oz Pineapple juice 
• 2 oz Club soda
• Garnish:  Orange slice and Maraschino cherry
Directions:
1) Add rum, grenadine, and pineapple juice to a shaker with ice, and shake well.
2) Strain into a highball glass over crushed ice.
3) Top with club soda.
4) Garnish with an orange slice and a Maraschino cherry.