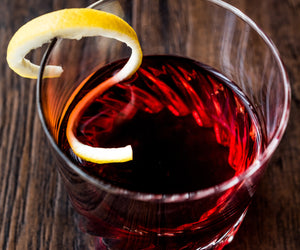 About:
The official cocktail of New Orleans, the flavorful Sazerac has been around since the mid to late 1800s.  Spicy rye whiskey has replaced the original main ingredient, which was cognac.
Ingredients:
• 2 ounces rye
• 1/2 oz absinthe
• 3 dashes of Peychaud's bitters
• 1 teaspoon sugar
• A splash of water
• Garnish: Lemon twist
Directions:
1) Mix sugar, Peychaud's bitters,and a splash of water in a shaker tin or mixing glass.
2) Add rye, fill with ice and stir.
3) Rinse a chilled Old Fashioned glass with absinthe, then discard the absinthe.
4) Strain into the glass , and garnish with a lemon twist.