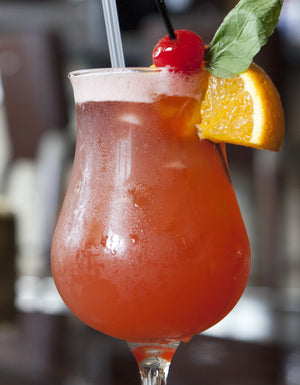 About:
Mid-20th century Caribbean drink, there are many variations on the recipe for this cocktail.
Ingredients:
• 1/2 oz rum
• 1/2 oz coconut rum
• 1/2 oz grenadine
• 1 oz pineapple juice
• 1 oz orange juice
• 1 cup crushed ice
• Garnish: Orange wedge, Maraschino cherry
Directions:
1) Add rum, coconut rum, grenadine, orange juice, pineapple juice and crushed ice to an electric blender.
2) Blend until slushy.
4) Pour into a Hurricane glass and garnish with orange wedge and maraschino cherry.