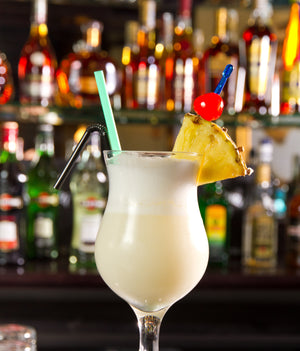 About:
Classic tropical cocktail that originated in Puerto Rico in the 1950s.  Often made frozen using a blender and crushed ice.
Ingredients:
• 2 oz Puerto Rican rum
• 1-1/2 oz cream of coconut
• 2 oz pineapple juice
• Garnish: pineapple wedge, maraschino cherry
Directions:
1) Add rum, cream of coconut, and pineapple juice to a shaker with ice and shake well.
2) Strain into a Hurricane glass and garnish with a pineapple wedge and maraschino cherry.